Take it easy at this city center art space
Tenku cafe in the Koji Kinutani Tenku Art Museum is on the 27th floor of Umeda Sky Building Tower West, which soars above the New Umeda City complex near JR Osaka Station.
Here is everything you need to know about the charm of Tenku cafe, where you can experience outstanding views and an artistic space after looking around the museum or shopping in Umeda.
Instagenic point.01
Tenku cafe entrance
Umeda Sky Building
Tenku cafe is located in Umeda Sky Building, whose special twin-tower construction is almost completely covered in mirrored glass. With its unique exterior, Umeda Sky Building has even been chosen as one of the 'Top Twenty Buildings Around the World', and is unmistakably Instagrammable!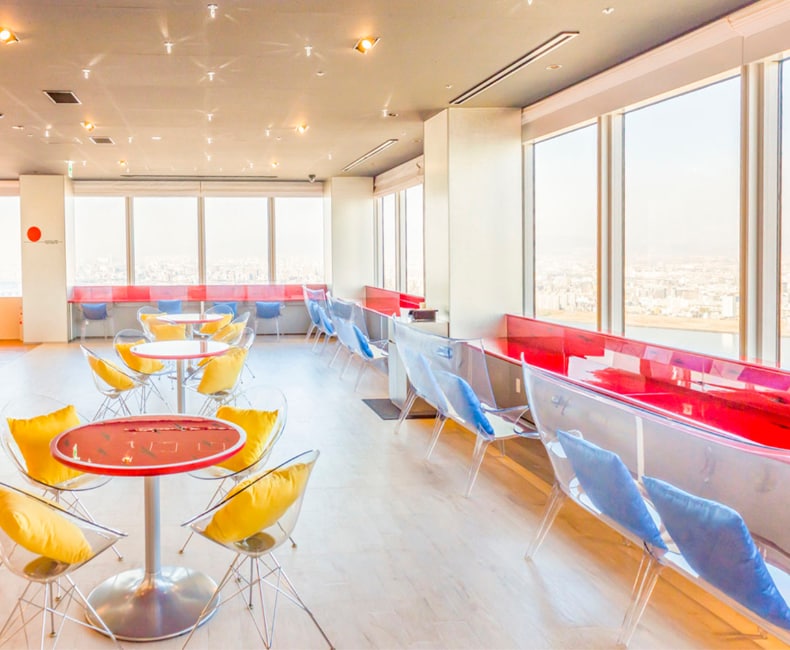 Instagenic point.02
An artistic space
you will only find in an art museum
Tenku cafe's charming interior is based on the keynote colors of the Koji Kinutani Tenku Art Museum: red, blue, and yellow.
Alongside specially selected Italian-made chairs and cushions, the tables are enhanced with traditional Japanese designs for a flavor of Japan-meets-Italy.
There are counter seats for individual customers who want to relax and enjoy the view, as well as tables for groups, friends and families.
Instagenic point.03
Exceptional views of Osaka
from the 27th floor of Umeda Sky Building
A fusion of art space and stunning views you are unlikely to experience elsewhere is the main attraction of Tenku cafe.
This location is guaranteed to look great on Instagram!
Daytime

In addition to the beautiful scenery, you can enjoy the unobstructed view of road and rail bridges across the Yodogawa River and planes coming in to land at Osaka International (Itami) Airport.
It will make you feel like you are looking at a diorama of Umeda.

Evening

The sea view is also full of highlights, such as Mt. Rokko, Awaji Island and the Akashi Kaikyo Bridge in the direction of the setting sun.

Night

Tenku cafe is open until 8 p.m. every Friday and Saturday, and on the day before a public holiday, enabling you to delight in magnificent views of Umeda at night.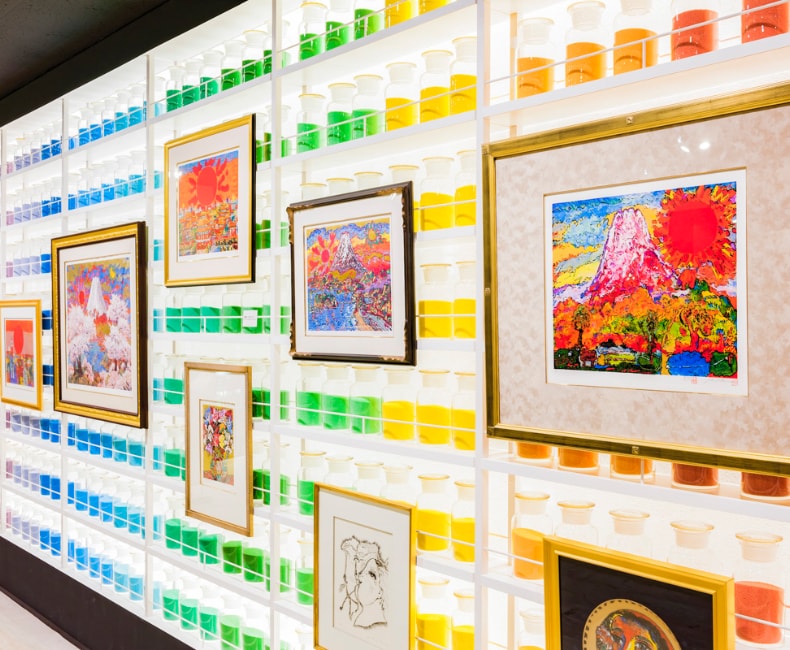 Instagenic point.04
The colorful walls of the cafe are decorated with numerous prints in rich,
vibrant shades.
The moment you enter Tenku cafe you will notice the colorful walls. Tiles in sixteen different hues inspired by pigments, coupled with the fresh colors of Koji Kinutani's prints, conjure up Tenku cafe's art space.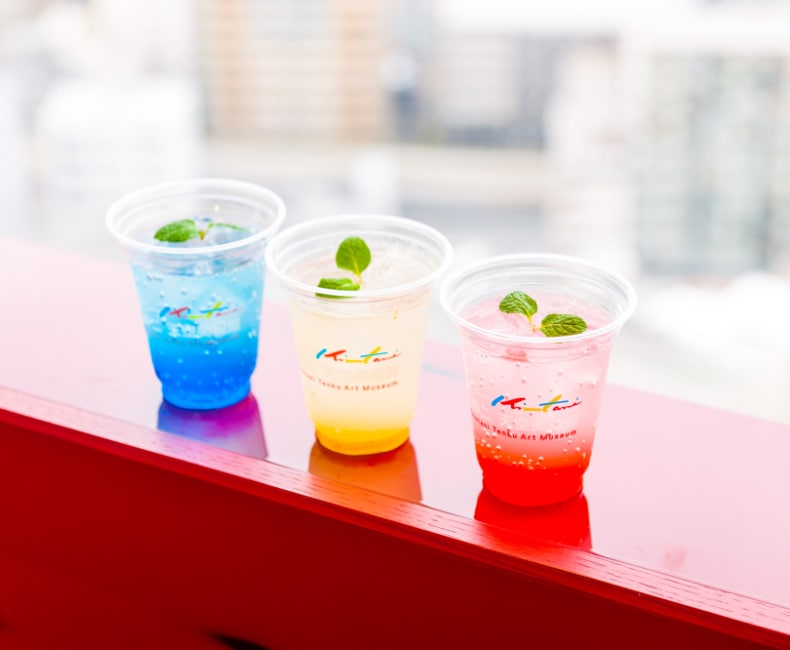 Instagenic point.05
Recommended menu
Enjoy the view
with one of our colorful sodas
The colorful Italian sodas are Tenku cafe's signature drinks and available in the museum's three thematic colors: Red(Pink Grapefruit), Blue(Blue Lemonade), and Yellow(Yuzu Soda).
Together with the dazzling views, they make for the perfect photo opportunity.